ICICLE CANYON FALL BLAZE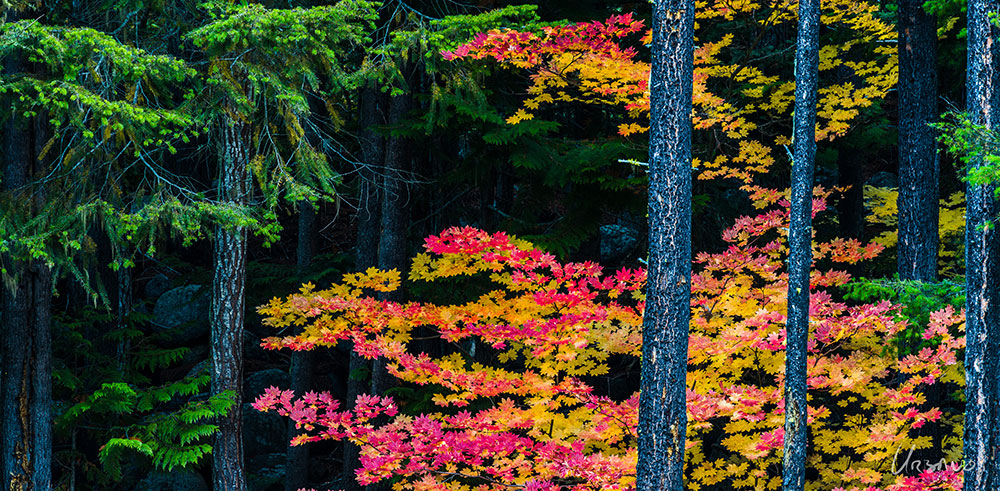 Photographer Dominic Urbano, Leavenworth WA.
One of the best short hikes in the Leavenworth area is the Icicle Gorge loop trail. It is especially nice in the fall as the Icicle creek is dotted with the bright colors of vine maple. The fall colors blaze bright contrasted with dark evergreens and the large boulders so common throughout the entire Icicle Creek Canyon. The hike is a gentile four mile loop that takes hikers along both sides of the creek and will give visitors a good feel for the great variety that the North Cascade mountains have to offer. In the space of four miles a hiker will move through cedar groves, stands of lodgepole pine, fir, spruce, and hemlock trees. The understory will be a mix of colorful bushes and smaller trees such as the vine maple that is such a colorful superstar in the fall. The creek will transition from fast rapids and deep pools through steep cut rock to gentile eddy's along cobbled low bank areas where hikers can cool their feet on a hot day. The variety that this trail affords is truly impressive.