It would be hard to overstate how dominate the Washington monument in the heart of Washington DC is. Especially at night this tall white obelisk stands like a massive pin around which the rest of the United States capitol spins. Getting a great photograph of the monument proved to be a particularly difficult task when I was there in October of 2012. The iconic shot of the Washington monument is to catch a clear reflection on the water of the reflecting pool that was made just for that purpose. With a bit of luck a photographer can stand on the steps of the Lincoln memorial when the water is still and capture their own version of this beautiful scene. A bit of rain, wind, or even a tourist dipping a hand into the water can upset the possibility of getting a clear reflection. Or, was the case in October of 2012… there might not be any water at all. The reflection pool had been drained due to an algae bloom. It seemed as if I was out of luck for getting a reflection shot of the monument.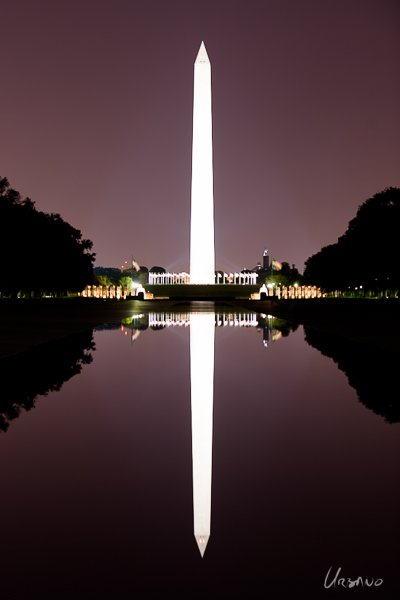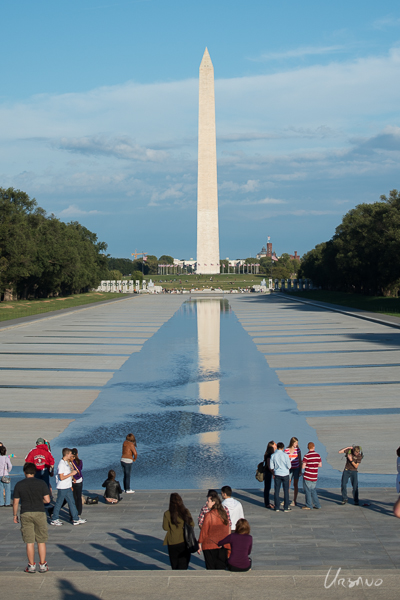 Disappointed by this bit of bad luck I carried on with my tour and photography of our Nation's capitol. It was not until I revisited the steps of the Lincoln memorial late at night that I discovered that the almost completely empty reflection pool turned out to be a bit of good luck for this photographer. At the bottom of the concrete pool was a thin strip of perfectly still water. At night, with the Washington monument set ablaze with powerful lights, the reflecting pool was shrouded in darkness hiding the fact that the pool was all but empty. To my delight, there in the bottom of the pool, was a perfect reflection of the Washington monument. The late hour ensured that I did not have to compete for a bit of space on the Lincoln memorial steps as I set up my tripod and worked to capture this beautiful photograph of the Washington memorial.
This is a good example of how little control a landscape photographer has over the conditions that are found at any given location at any given moment. I would love to claim that I had anticipated how different this scene would be at night but I had not. What I did do, and what I routinely advise people interested in learning more about landscape photography to do, is revisit a site that holds great promise if the first visit doesn't work out. On this particular trip my wife and I decided to revisit the monuments and memorials of Washington DC at night. That decision produced a wealth of great photo opportunities.