Shooting from the moving deck of the Lago Pehoe Ferry
There is an abundance of spectacular scenery in the Patagonia regions of Chile and Argentina. A region known for rapidly changing weather and high winds the conditions for photography are not always ideal. Such was the case when I found myself shooting from the deck of the Lago Pehoe ferry on my way to begin the W hike in Torres del Paine national park. With the peaks of Cerro Paine Grande and Los Cuernos swirling with clouds and contrasting beautifully with the emerald green water of the lake this photographer was eager to do what I could do to capture this landscape. The only problem was that I was on the upper deck of a catamaran that was pitching and rolling in the waves that were being whipped up by a strong head wind that was buffeting me too.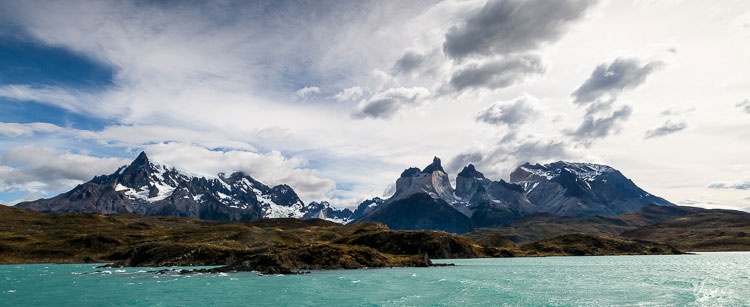 Working in my favor were several factors. It was just after noon so there was plenty of light allowing me to use higher shutter speeds with a low ISO. Not typically the ideal time for shooting landscapes due to the lack of shadow detail, on this day and in this location it was going to work. The clouds added depth and shadow to the scene. The mid day light refracted a deep green color from the glacier fed lake in a way that it might not at other times of the day. The wind pushing the waves created texture and a few white caps to create a more interesting foreground. All I had to do was avoid pitching over the side of the boat and I would be fine.
To read more about Torres del Paine and hiking the W in Patagonia visit my